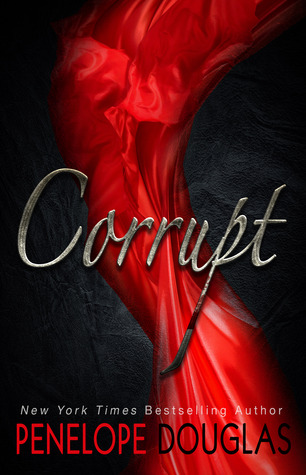 Corrupt

by Penelope Douglas
Published by Self-published on November 17th 2015
Genres: Contemporary Romance
Pages: 460
Buy on Amazon
Buy on Barnes & Noble
Buy on Walmart/Kobo
Goodreads

Erika
I was told that dreams were our heart's desires. My nightmares, however, became my obsession.
His name is Michael Crist.
My boyfriend's older brother is like that scary movie that you peek through your hand to watch. He is handsome, strong, and completely terrifying. The star of his college's basketball team and now gone pro, he's more concerned with the dirt on his shoe than me.
But I noticed him.
I saw him. I heard him. The things that he did, and the deeds that he hid…For years, I bit my nails, unable to look away.
Now, I've graduated high school and moved on to college, but I haven't stopped watching Michael. He's bad, and the dirt I've seen isn't content to stay in my head anymore.
Because he's finally noticed me.
Michael
Her name is Erika Fane, but everyone calls her Rika.
My brother's girlfriend grew up hanging around my house and is always at our dinner table. She looks down when I enter a room and stills when I am close. I can always feel the fear rolling off of her, and while I haven't had her body, I know that I have her mind. That's all I really want anyway.
Until my brother leaves for the military, and I find Rika alone at college.
In my city.
Unprotected.
The opportunity is too good to be true as well as the timing. Because you see, three years ago she put a few of my high school friends in prison, and now they're out.
We've waited. We've been patient. And now every last one of her nightmares will come true.
***Corrupt is a stand-alone dark romance with no Cliffy
This book may be unsuitable for people under 17 years of age due to its use of sexual content, drug and alcohol use, and/or violence.
There is one good thing about this book. It has one hell of a playlist. It's mostly filled with hard driving, unapologetic, dark rock (well, mostly metal). Exactly what I wanted this book to be. I was expecting one hell of a dark,  twisted, mindfuck. Instead, I got a new adult wannabe dark book that, for me at least, fell way short of the mark.
Why, when so many others have loved this book, did it not work for me? Because instead of a dark, messed up book with complex characters I got a bunch of delinquents who really needed their parents to kick them in the ass. The book revolves around the events of one night, three years prior and the revenge planned in the present. There is a lot of going back and forth in the timeline. Beware of spoilers ahead.
Four former students who used to be considered "kings" of the school come back on Devil's Night (the night before Halloween) to whip the basketball team into shape. They do this by showing the current team how to haze, drink, and screw their way into a brotherhood that can hopefully perform on the court. After helping out their old school team, they then proceed to relive their youth by spending the rest of Devil's Night pulling off some pranks that include sex with an underage girl, arson, and vandalism. They do all this while dragging along a sixteen-year-old girl and basically daring her to participate while constantly treating her to verbal abuse and veiled and not so veiled threats of rape etc. yet she stays. Such a great group of smart, upstanding kids.
Something goes terribly wrong and the videos of their adventures (yes, these dumbasses record everything) fall into the wrong hands and three of the four end up going to jail for three long years. They think the girl betrayed them so they spend those three years planning an elaborate revenge that will result in her being at the mercy of all four boys to be used by them in every way imaginable. Do they confront the girl, ummm…no. They just assume and plan. The fact that they did everything they were accused of meant nothing, they were just mad they got caught.
I could not stand any of the characters. The boys got what they deserved (at least three of them did), and the girl was just weak and dumb. At any point, she could have ran or told someone what was happening and she didn't. Don't even get me started on her forgiving the H even after everything he planned to do to her.
There was nothing dark or suspenseful about this book. I figured out the bad guy (other than the four idiots), immediately. Most of the book was so far fetched and out there, I just kept rolling my eyes.
Obviously, I'm in the minority. Others, even those who I usually agree with, have adored this book. Maybe it's the fact I'm a Mom and have worked with teenagers for years so I couldn't get past the feeling that these were just a bunch of seriously mean kids who did bad things and threw a misguided temper tantrum because they got caught, and instead of learning from the experience and growing, they decided to blame someone else.
Spice's Rating: 2 Completely Disappointed Stars
Related Posts